Category Archives:
Collectibles
Posted by Jake on June 19, 2015
Comments Off

on JAWS 40th Anniversary playing cards on Kickstarter

| 13,006 views
Get this cool JAWS collectible featuring the iconic JAWS art by Roger Kastel! Check out the Kickstarter below:
https://www.kickstarter.com/projects/crookedkings/40-years-of-fear-bicycle-jaws-playing-card-deck
Posted by Jake on June 26, 2014
Comments Off

on Celebrate 4th of July by Entering to Win a Limited Edition Jaws – Bruce Shark Shakems

| 31,250 views
Here's a great gift idea for the JAWS fan in your life! The soundtrack to the JAWS documentary The Shark is Still Working.   It's on sale for just 9.95 plus free USA shipping through December 12th.  Click on the page "JAKE SENT ME" over at www.michaelmccormackmusic.com for the sale price.
Our composer, Mike McCormack, poured his heart and soul into the music for our documentary.  His music evokes JAWS, while not being an imitation of John Williams' famous score.  Don't miss Mike's rendition of "Show Me the Way to Go Home", the song sung by Quint, Hooper, and Brody on the Orca.   Mike is joined by Greg Parker on Lead Guitar for this song, as well as on a new version of "Spanish Ladies".  You can get the cd at Mike's website, CD Baby, and Amazon.com.
LIMITED EDITION – featuring 38 Digitally Mastered tracks, full color disc artwork includes a behind-the-scenes photo shot from the set of JAWS by Cal Acord in 1974.
This original soundtrack by Michael McCormack (Composer) includes 38 tracks consisting of new instrumental music and two sea shanties inspired by and meant to evoke and celebrate the impact and legacy of the enduring classic film JAWS.
Check out artist Matt Verges' JAWS movie posters. The posters are limited editions and the red variation is already sold out. The blue variation is limited to 150 and is just $24 – that's right, just 24 bucks for a 24×36 print!
http://www.posterocalypse.com/2011/12/matt-verges-jaws-movie-posters.html
This was the design for a limited-edition-available-one-day-only t-shirt at http://teefury.com. More info here: JAWESOME at TeeFury
You can now order the new book JAWS: Memories from Martha's Vineyard. This very cool book for any JAWS collector is now shipping. There are two versions available, see below for details.
You can preview some of the rare photos the book features here: preview pages
JAWS: Memories from Martha's Vineyard (Paperback) $59.95 (order here)
12″ x 10.5″, 296 pages
More than 1,000 full color and b/w images
JAWS: Memories from Martha's Vineyard (Limited Collectors Edition) $250 (order here)
Deluxe portfolio containing:
1″x1″ piece of the fiberglass hull of the Orca II (a.k.a., sinking Orca) used in the movie JAWS with note of authenticity from owners Lynn and Susan Murphy.
DVD containing eight millimeter behind the scenes footage of the JAWS production shot and narrated by Islander Carol Fligor.
Hardcover and portfolio packaged in a unique special edition case.
Limited to a series of 1000 numbered copies
12″ x 10.5″, 296 pages
More than 1,000 full color and b/w images
You can order either version on the official JAWS: Memories From Martha's Vineyard website.
A UK-based company has three new t-shirts inspired by JAWS. Check 'em out:
"Amity Island":
http://www.lastexittonowhere.com/shop/product/amity-island/
"Quint's Shark Fishing":
http://www.lastexittonowhere.com/shop/product/quint-s-shark-fishing/
"Amity Police":
http://www.lastexittonowhere.com/shop/product/amity-police/
Check it out, "Quint's Fish Paste" by JimmyC. Jimmy says, "I'm a big fan of the movie Jaws and the captain of the Orca, Quint, who is one of my heroes and an icon of film history. The movie was released in the year I was born so it holds a special place in my life."
Vote it up on Threadless here: http://www.threadless.com/submission/308387/Quint_s_Paste
Documenting the impact of the film on island history has been a full-time job over the last two years for Matt Taylor, who is polishing a 300-page account of how "Jaws" was made.
The book, titled "Martha's Vineyard Remembers Jaws," includes about 800 never before published photographs of the production snapped by islanders, and 65 interviews with those closest to the filming.
Taylor said readers will be surprised to learn about the impact island residents had on the film's success, pointing particularly to contributions from Susan and Lynn Murphy.
Lynn Murphy, a Vineyard marine mechanic, was hired to help run the special effects in the water.
"They were having a terrible time with it until Lynn came along and set everything straight," said Taylor. "Lynn, and his knowledge of how to do things on the water, really saved the production."
The photos in his book were compiled by "Jaws" fan and memorabilia collector Jim Beller who, despite technology advances that make some of the "Jaws" special effects look rudimentary 35 years later, isn't worried the movie will lose its luster for the "Avatar" generation of fans.
"If you love a good suspenseful movie, a movie that has everything, or you are a Steven Spielberg fan, see it," he said. "If you like swimming — think twice."
Full story here:
http://news.yahoo.com/s/nm/20100707/film_nm/us_jaws
Book website here:
Just When You Thought It Was Safe: A JAWS Companion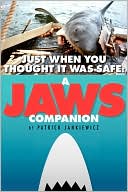 The book, by Pat Jankiewicz, takes an in-depth look at JAWS and its sequels.  Each film is covered, with inside stories, trivia, body counts and more. Learn why John Hancock's more bloody version of JAWS 2 was scrapped, personality conflicts between Roy Scheider and eventual JAWS 2 director Jeannot Szwarc, the proposed JAWS 3, People 0 comedy sequel, and which sequel was to begin with the death of Brody. The book also covers JAWS knock-offs such as Piranha, Grizzly and others.
To buy the book, click the link below: