Category Archives: Featured

- Page 3
This is Part 1 of 4 of a recent series of articles on the making of JAWS 2 by Betty Archer Allen that appeared in The Gulf Breeze News.  Links to parts 2-4 follow the article.  Thanks to Sean for the heads up about the articles.
The making of 'Jaws2,' the movie sequel to the mega-hit 'Jaws,' might have been old-hat movie making to the professionals involved, but for the residents of Gulf Breeze and Navarre, it was a real happening.
The movie came out in theaters in the summer of 1978. The excitement for the Gulf Breeze area, however, was experienced during fall and winter of 1977-1978 when Hollywood filmmakers and movie stars descended on the Emerald Coast to film the suspense thriller.
So many local lives were affected. Area residents, including students from Gulf Breeze High School, were hired as extras. It was exciting as locals anticipated being seen worldwide on the silver screen.
Universal Studios scouted the Emerald Coast to determine which area was best suited for filming. It found Navarre Beach to be ideal, and the Holiday Inn "Holidome" was more than suitable for film headquarters because of its relatively remote location.
Darryl Lapointe, now President of the Highpoint Hotel Corporation, was general manager of the Holiday Inn at that time. Universal rented 100 of the hotel's 200 rooms. The ground floor was converted to offices, and some of the Gulf-front suites were remodeled for stars David Brown and Roy Scheider.
"The film cast and crew came expecting to complete the project in a few months and stayed a year," Lapointe said. "Their room bill was $1 million."
The Gulf Breeze community became involved when the movie company advertised locally, seeking anyone who was interested in taking part in the movie to complete an application that was provided in some of the local motels.
Photos of the young actors were published in the local newspaper in hopes of finding look-alikes who could act as stand-ins or doubles.
Students — especially members of the band from Gulf Breeze High School — and people who could maintain and sail boats, families who could spend ample time on the beach and local boating businesses participated in the production.
Sequel to '75 film
'Jaws 2' was the first sequel to the 'Jaws' thriller of 1975 directed by Steven Spielberg. The primary director of 'Jaws2' was Jeannot Szwarc. The film was produced by Richard Zanuck and David Brown.
Parts of the movie, particularly the community scenes, were filmed at Martha's Vineyard — renamed Amity Island — in Massachusetts. Many of the water scenes, however, were shot locally. Navarre Beach was chosen for the majority of filming because of the mild fall and winter climate and the ideal depth of the water.
Other parts of the movie were filmed from Fort Pickens on Santa Rosa Island to as far east as Choctawhatchee Bay near Fort Walton Beach. Hog's Breath Saloon on Okaloosa Island, which has since relocated to Destin, served as the teen hangout for filming.
Many of the characters of 'Jaws' returned for 'Jaws2.' Three major actors resumed their roles: Roy Scheider as Chief Martin Brody; Lorraine Gary as Ellen, Brody's wife; and Murray Hamilton as Mayor Vaughn. Mark Gruner and Marc Gilpin played Brody's sons, Mike and Sean.
The plot of 'Jaws2′ was similar to its predecessor. Scheider's character, Martin Brody, felt that several recent deaths and disappearances in the vicinity of Amity Island indicated that another great white shark was plaguing surrounding waters again. But as before, he had difficulty convincing the town's mayor and aldermen, who were more interested in promoting the growth of the area and didn't want anything to interfere with tourists' and summer dwellers' enjoyment of beach and water activities.
The film's tagline, "Just when you thought it was safe to go back in the water" became one of the most famous sayings in movie history.
Universal was able to reuse the molds of the behemoth shark from the first film, but much of the mechanism was ruined from having been left outside. For 'Jaws2,' the studio built three mechanical sharks: the platform shark, a fin, and a full shark. The fin and the full shark were pulled by boats.
The company built props to enhance the scenes and make the Navarre area look more like the East Coast. They built a full-size lighthouse prop that looked genuine despite having only one side; a wood-framed skeleton of 2-by-4s supported the building. They also built an island on a floating barge called Cable Junction. It was constructed in such a way that the huge mechanism of the platform shark could go underneath it. This island can be best seen in the final scenes of the movie.
Like the first film, the production was marked by problems. Scheider often argued with Szwarc, which made the atmosphere tense and uncertain. Scheider was not happy about reprising his role as Brody and making the sequel. He disagreed with Szwarc's directing and was quite open in his differences of opinion.
Locals remember Scheider as being something of a fitness fanatic, working out during breaks.
Szwarc responded that he was trying to make the film to the "best possible" standard, and neither Scheider's or Szwarc's feelings were important; only the film mattered.
There were many delays in filming because of breakdowns of the mechanical shark, minor boating accidents and Mother Nature. Shortly after construction of the lighthouse was completed, it was hit by lightning and had to be rebuilt.
Wind and weather conditions constantly changed, resulting in the sailboats getting blown in different directions. There were many days when there could be no shooting at all. But when the cast and crew worked, they put in long, hard hours.
Dollars flow locally
The making of this film was a boost to the local economy because local boaters, extras and stand-ins or doubles were hired. Universal brought in actors, directors, producers and their wives, camera and crew people who needed housing, food and clothing for the movie. Services were needed for laundry, dry-cleaning and recreation.
In 1977, Ed Gray III of Gulf Breeze was manager of what's now known as SunTrust Bank on Hoffman Drive. He recalled that the bank received a phone call from Holidome management alerting the bank that someone from the movie company would be coming to see them.
An elderly gentleman visited the bank and identified himself as the on-site auditor for Universal Studios. He said he needed a local bank where he could get a $40,000 check cashed each week. The cash needed to be in specified denominations and placed in a paper bag to be taken to the film location and disbursed to each member of the film crew and cast as the per-diem money to purchase meals or other necessities.
This routine went on for many weeks.
"Today and certainly more so in those days, $40,000 was a big sum to be carrying in cash," Gray said. "The auditor normally would have at least two big guys accompanying him, and he was inconspicuous during his visit to the bank."
Gray said the two boys playing the roles of the police chief's sons came to open accounts at the bank. They wanted local accounts for routine spending.
"During the course of the account opening, they began to debate which of them had more acting experience and which one had appeared in more commercials as this was the first movie appearance for each of them," Gray chuckled.
Continue reading with the links below
:
Just over a year ago I was approached about setting up an exhibition here in Liverpool based on items in my JAWS collection, I was heading to America around the time and the franchise owners had other events to arrange so the idea was put on ice until this year.
Microzine is a hip men's store in heart of Liverpool which also has a London outlet, it was voted the top UK store for gents gadgets and design and has held exhibitions featuring work from the likes of Jamie Reid (Sex Pistols graphic designer) and high profile fashion shows featuring among others Stella McCartney's fashion range.
http://www.microzine.co.uk/index.do
The event lasted a month and ran throughout August 2008 and a limited range of memorabilia was produced to tie in with the event. It was whirlwind of a month but a satisfying one as the event proved to be a huge success and it was amazing how much interest there still is in "the" big fish movie.
Here is a selection of images from the VIP launch night from various sources along with some articles and images of the exhibition itself, I hope you enjoy them.
Microzine's streaming slideshow
http://www.flickr.com/photos/29309095@N03/sets/72157606571532870/show/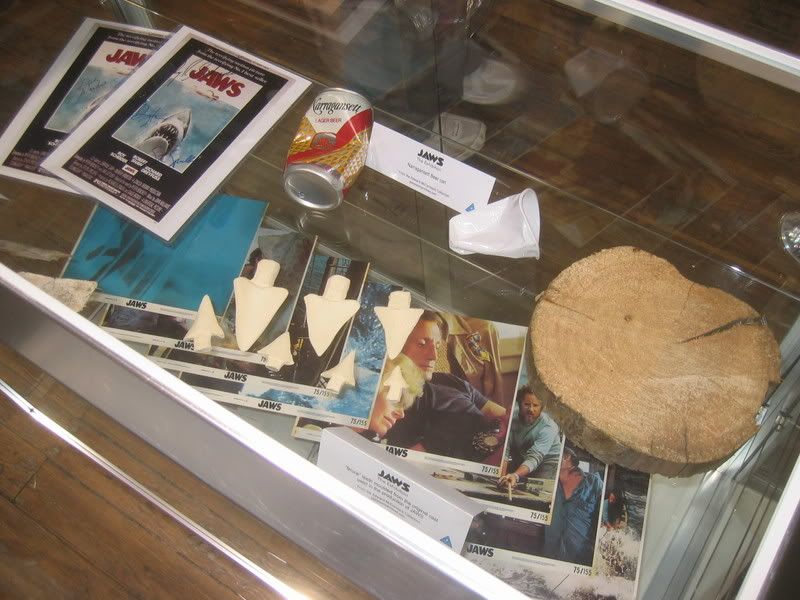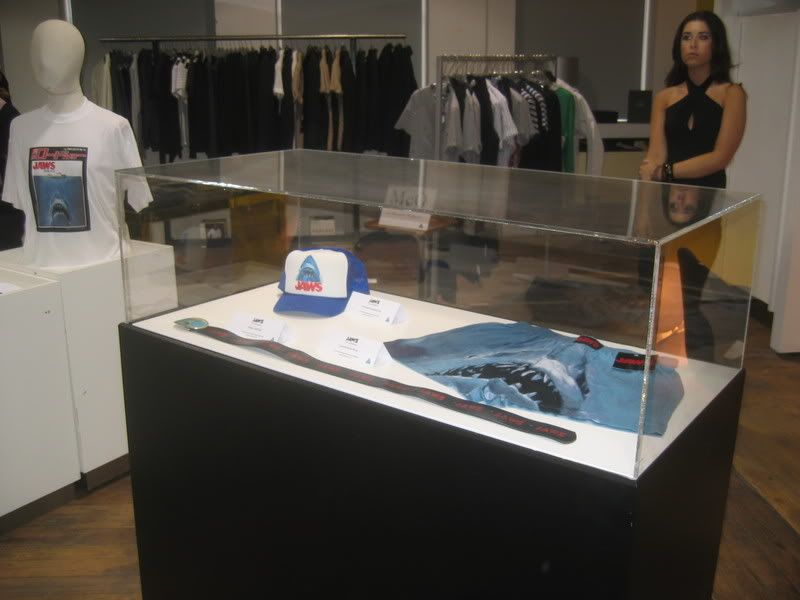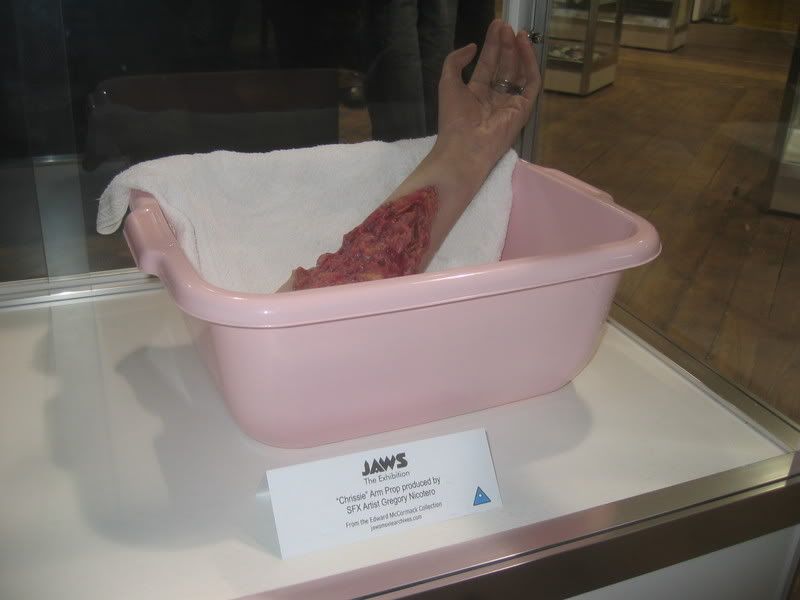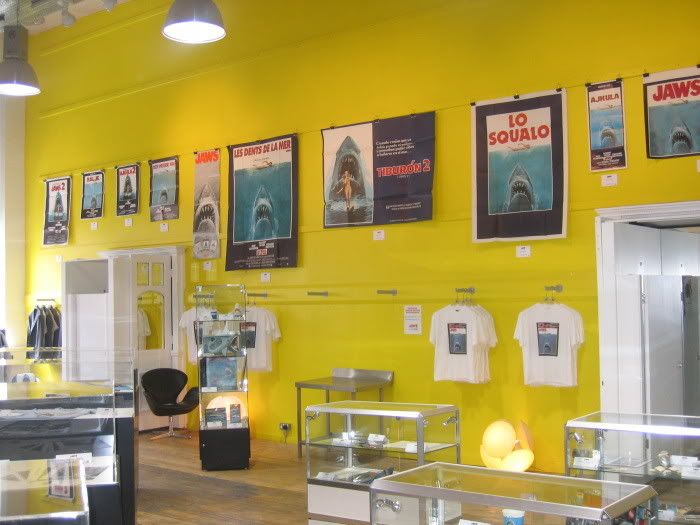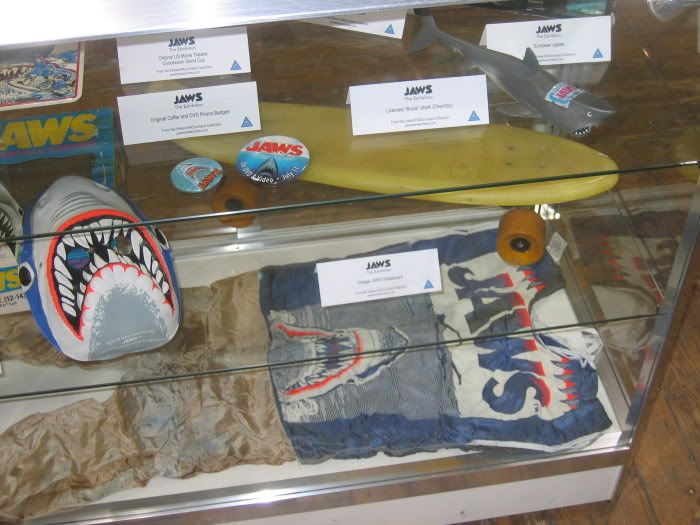 One of the TV items that covered the event
http://news.bbc.co.uk/1/hi/england/7538317.stm
and one of the press items that appeared
http://www.byinvitationonly.merseyblogs.co.uk/2008/08/just-when-you-thought-it-was-s.html
Sadly I couldn't make it to the Vineyard this year but this event more than made up for it and kept me occupied, another great JAWS year.
Ed
I first posted this collecting thread around this time last year on Jawsmovie and Spielberg films, I originally dedicated the topic to our dear departed friend Wullie who sadly passed away nearly a year ago now, I thought I'd post this again in memory of the gentleman and hopefully for your interest.

(as posted in 2007)
So a long overdue clearout at home commenced this fall and was closely followed by a period of decorating hell. I knew amid the mayhem that I would eventually need to move and re house a lot of my JAWS collection… a task not for the faint of heart.
I photographed some stages of the adventure so join me (you don't have to take me by the hand) for a rare glimpse into my own JAWS vaults…
Until recently much of my collection that is actually stored at home lived stacked in tough cardboard boxes which were fine for storage, but I needed something more organised for the occasions I need to refer to material for a JAWS related project or to answer enquiries which I often receive.
I invested in a number of plastic crates and decided to give them a rough storage crate "identity". I scanned and cleaned up the logo from the cover of the original UK JAWS paperback (sorry Lou ) as this was the typeface I most associate with from the original JAWS era, I produced a large stencil from this and sprayed a rough and ready logo on each crate. After coming down from the high from the fumes I set working through much of my collection and deciding which items would live together.
Magazines, Stills and Press Materials:
These items are the easiest to store but command the most protection due of course to the nature of paper ageing. It was a cert that I would be heavily distracted during this section of the move, but what a distraction it was! It was a delight to flick through the related magazines and press releases etc from the period. Viewing all these together in such a concentrated manner drove home just how big business JAWS really was during that initial Summer of the Shark and of course the summers that followed.
Out of interest I store the vast majority of my magazines and press materials in individual plastic bags with the rarer publications toughened by card backing.
Books, books and more books:
Over the years I've accumulated a variety of worldwide JAWS novels, most covers carry the usual and classic Kastel art, some though feature nice variations of this iconic image and several feature totally unrelated art and are often pretty wacky in their design. Alongside the variations of the novel are the worldwide variations of the "The Making of JAWS" and "The JAWS LOG", along with several other tie in/shark paperbacks from the era. My books are bagged individually.
Toys, Games and Kits:
The storage of these items of memorabilia is a minefield, rare kits, ceramics, pendants etc sit alongside less rare items, I choose to store these items quite randomly concentrating on saving space but of course assuring rarer items aren't crushed or damaged. I also store various VHS editions of JAWS with these larger items.
LPs and Laserdiscs:
One of the easiest storage options, an aluminium album case is ideal for housing not only worldwide variations of the JAWS soundtrack, but also the unboxed Laserdisc sets, the larger Signature Editions are stored separately.
Worldwide Posters/FOH Stills/Oversised Promo Materials:
I find large toughened card envelopes provide good storage for my range of folded posters, lobbies etc, whilst tough card tubes protect the rolled posters.
Oddly enough I don't currently display any JAWS posters at home, but this is likely to change in the near future once home improvements finish and I may also need to refer to my worldwide posters for a totally different reason but more of that at a future date*.
* this was in reference to the JAWS Exhibition which eventually took place in August 2008.
Those special items:
Gifts from JAWS fans and film crew alike come in all shapes and sizes… The Chrissie Arm prop from Greg Nicotero, a chunk of the Orca 2's fibreglass hull from Lynn and Susan Murphy, a chunk of the Spielberg Cabin from Dana… these and more unique items don't currently have a special box of their own (perhaps they should), and I store the more unique items like everything else, safe but with an eye for storage space.
Many larger items in my collection are stored at my brother's place so this really is only a peek at my collection but I thought it'd be fun to record the move and share, I hope you enjoyed taking a look in the crates.
I've dedicated this thread to Wullie, he used to love talking JAWS collecting and I know he'd have appreciated such a thread.
(18/11/2008)
Well it's almost a year since we lost our good friend Wullie. Wul was only 42 when he died suddenly, hailing from Scotland he was a fellow JAWS collector and good and generous friend, he'd often ask me for collecting advice and offer to stir clear of an ebay auction if he knew one of the regulars wanted an item, I told his family that I would be including a number of items from the man's collection in my JAWS exhibition this year in his memory as it was something I wanted to do.
Sadly Wul was one of the JAWS gents I never got to meet in person, I will be up in Scotland for a wedding next Summer and had the man still been with us then I believe that would have been opportunity I wished for but sadly it is not to be, this one was for you Wul, you're missed mate.
Ed
I found a nice caricature of Quint as he sat in front of the Amity town council. Evidently it was published in the April 2008 issue of Paracinema magazine. The artist of the sketch is Dan Springer.
More info here:
Caricature King: Quint
Check out this cool JAWS t-shirt available from Crazy Dog T-Shirts. A fine addition to your JAWS collection:
The estate of Frank Mundus, an inspiration for Robert Shaw's character of Quint in JAWS, has put his boat the Cricket II up for auction. Check out the details:
THE "CRICKET II" FISHING BOAT – THE MOVIE "JAWS"
ONLINE ONLY AUCTION – CURRENTLY ACCEPTING OFFERS
Location:
155 Terminal Drive Plainview, NY 11803
Estate Auction:
Executor of The Frank Mundus Estate Orders Immediate Sale via Public Auction
The "CRICKET II"
The Vessel that Inspired the Movie "JAWS"
Rare Opportunity to Own a Piece of American Cinema History
Identification:
Year: 1947Â Â Â  Builder: Tiffany Cockrell/ Tiffany Yachts
Documentation No: 25516
Color: White hull-sides with varnished transom, black anti-fouling. white decks and superstructures, and tan cockpit sole
Dimensions:
Length on Deck: 39'6″Â Â Â  Beam: 14'Â Â Â  Draft: 3'9″
Propulsion:
Engine: Detroit Diesel 8VT71TI, freshwater cooled, 2-cycle, V-8 x 71 cid cylinders, 2- Cycle, with a single turbo charger and inter-cooler, rated to produce 435 horsepower, mounted on built-up pine engine bed stingers via adjustable flex mounts. The exhaust has a water injection elbow, FRP piping in the splitter, dual hose runs with cylinder mufflers, and twin exit flanges through a Racor Filter.

Engine Controls:
Gauge set and dual clutch and throttle levers, operating cable connections to the engine and gear.
Drive Train:
Capital reduction and reverse marine gear with bolt-through shaft coupling, 2″ stainless shaft, shaft log with compression seal, bronze receiver flange with Cutless bearing, and 4-blade prop.
The vessel is in excellent condition and has been maintained by proffesionals throughout its life.Over the years replacements, modifications and repairs have been made to this vessel.
For more information about the boat, you can visit the auction page.
Writer/actor Carl Gottlieb tells the entertaining story of how Jaws made its torturous, and now legendary, journey from the pages of a best-selling novel to movie theater screens across the United States and cinema history.
It's embarrassing for me to admit that it has taken me 33 years to get around to reading Carl Gottlieb's The Jaws Log,
a behind-the-scenes journal of the making of what I consider to be the greatest movie ever made.
Full article here:
Thanks to Mike and Dave, a couple of my Facebook friends and members of the JAWSmovie community, this one-sheet for Deliverance (1972) bears a striking resemblance to the original iconic one-sheet for JAWS. Perhaps original poster artist Roger Kastel was inspired by the redneck-laden film that came out three years before JAWS?
Maybe this guy knows: